From Impulse to Reality – Creative Expression made Manifest
I work with individuals, businesses, and performance groups to help creative impulses and visions turn into manifested realities: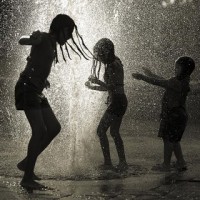 Performance projects – theatre, song, dance, and spoken word
Writing projects – blogs, articles, books
Visual arts – painting, photography, collage
Business ventures
Team dynamics
Blocks, general stuckness and frustrated inspirations
There is a natural high that comes when we're "in the flow." It can be daunting, depressing and frustrating when blocks and complications arise. Yet these stuck places often contain a crazy wisdom, something organic and mysterious. If we muster the curiosity and courage to explore these experiences, we can get in touch with new information and energy that brings unexpected value and creative directions to our projects.
Creativity often evokes incredible shyness, a sense of right/wrong, pressures to perform, confusion, overwhelm, despair and plain ole crankiness. But creativity can also connect us with our greatest hopes and dreams – the mystery of life itself, what is truly possible within ourselves, and our unique offering to this world.
Creativity is a universal birthright…as natural as the honesty of a child's face, as manifold as all the songs that have ever been written and will continue to exist throughout time.
So it is with you and all of us!
What are the unique creative impulses living inside of you and how do they want to be expressed?
in the form of poetry, song or dance?
feng shui, gardening or cooking?
that book you know is in you and must be written?
that business you are aching to get off the ground?
a childhood dream or newly discovered passion?
maybe your relationships with others are the vehicles for your creative gifts?
or maybe you just have a sense that something is missing and want to discover what it is…
Together we will tap the unique seeds of creativity that live in you and find out how they want to be uniquely expressed in your life.
Call or email
Give space for your creative expression today
Our work together may at times be uncomfortable, yet will undoubtedly make you feel more alive and fulfilled in your life!
PLEASE NOTE: Due to the current Coronavirus pandemic (COVID-19), I'm offering all sessions via teletherapy in order to protect the health and safety of clients and our community – please contact me for more information.